Recently, the South China Morning Post (SCMP) released the top 10 most delicious breakfast dishes in Asia. Along with Hue Beef Noodle Soup and Pho, Banh Mi is a dish that has been praised by the international media for many years.
From Popular Food
If you are not someone who understands Vietnam, surely foreign guests cannot understand why bread here has become so popular?
In front of schools, offices, from main roads to alleys, bread carts are so familiar to people all over the country.
What makes a popular cake priced at only 10,000 – 25,000 VND surpasses the "big guys" in the fast-food chain such as KFC, McDonald's, etc. to dominate the Vietnamese market and continuously reach the top of the top delicious dishes in the world. world?
First of all, what makes people impressed by the first vermicelli when eating the bread is the crispness, the harmonious blend of flavors, spices and fillings inside. In addition to basic ingredients such as meat, pate, Vietnamese bread is distinguished by the aroma of coriander, water, and pickles.
Unlike sandwiches, Vietnamese sandwiches do not use lettuce or tomatoes, instead, coriander and pickles are used as ingredients to enhance the scent. This is a unique and interesting combination that makes foreign diners not hesitate to wait in long lines to buy a Banh Mi when arriving in Vietnam.
If you want to try Banh Mi, you can Order Here in Boulder Pho Longmont. Thank You!
If in the past, Vietnamese bread stood out with toppings such as pate, braised meat, and spring rolls, now the bread filling is even more diverse. Toppings such as sausages, grilled meat, fried eggs, fried chicken, etc. or a mixed topping also make the audience satisfied with the tasting party when enjoying bread, which is rare in street food. which can bring.
The important condiment that many famous Banh Mi shops in Hoi An often use in their bread is a special chan (sauce).
Instead of pre-mixed mayonnaise, soy sauce, and fish sauce, the bread shop owners have prepared a "super sauce" – as a Canadian chef calls it.
This is a delicious, greasy sauce that enhances the rich flavor of the bread. Combined with premium ingredients of meat, pate, .. and grilled on charcoal stoves, bread was born as a representative of the quintessence of Vietnamese cuisine.
The taste of Banh Mi is close, rich, not extravagant, but has a unique Vietnamese cuisine. If you say what is the dish that people miss a lot when away from Vietnam, perhaps bread is the most mentioned dish.
That is also the reason why Vietnamese bread has convinced many strict culinary experts in the world and continuously ranked on the world culinary map.
To Excellent Street Food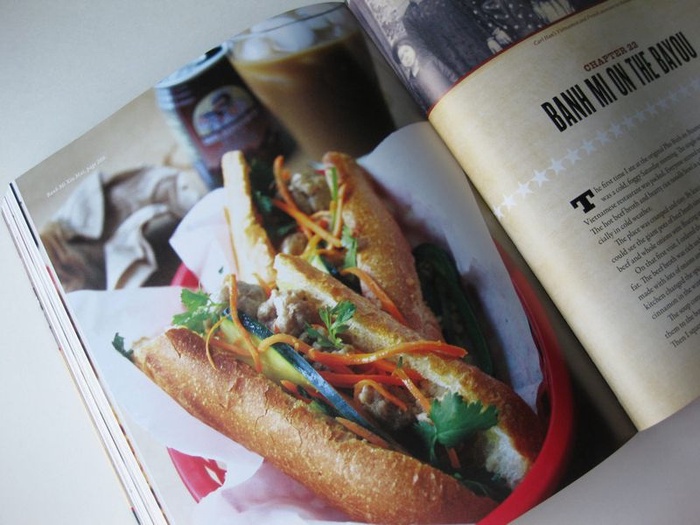 In order to become a world-famous dish as it is today, Vietnamese bread has gone through many ups and downs, the change in shape and taste of people is also the reason why bread has become one of the famous delicacies. world language.
The international media constantly praised Vietnamese bread with the name "World's best street food". Most recently, when selected as one of the 10 best breakfast dishes in Asia, Banh Mi, even more, shows the international value of the dish.
From a popular Vietnamese daily dish, Banh Mi shines proudly in the world. The image of the first black president of the United States eating a loaf of bread has created a good communication effect and created an opportunity for Vietnamese bread to reach out to the world.
A visitor from Norway said: "Vietnamese Banh Mi is delicious, cheap and of better quality than in my country. One bread can provide enough nutrients and energy for the body."
In the US, Banh Mi – a popular dish of Vietnamese cuisine, has appeared many times in the culinary columns of the mainstream press.
Among them are culinary programs, cultural articles on food tourism by one of the most influential chefs in the world, Anthony Bourdain, which has spread the "fascination" of Vietnamese bread to many audiences. fake watching television "the country of flags".
Vietnamese bread brand is famous all over the world. Even bread shops in Japan, Korea, Europe or America are very attractive. Most of the foreigners expressed their surprise by the excellent taste in the "Vietnamese sandwich".
In the UK or the US (and of course many other Western countries), bread shops sprung up like mushrooms with names like Bun mee, Banh Mi My Tho (USA) or Kieu, Banh Mi Bay, Banhmi11 (UK) ).
In Malaysia, there is a brand of bread called O Banh Mi and it is really a "big bang" when it becomes a favorite place for Malaysians. In Thailand, there is a mobile bread vending machine all over the city and it has become the most noticed and sought-after name.
Vietnamese bread is creating a fever all over the world. This dish is increasingly being creative with new recipes, new ways of making to suit each person's taste.
But one point that Vietnamese bread always retains is the rich flavor and Vietnamese spirit in this cuisine.
Continuously ranking on the international culinary map, Vietnamese bread still retains the best flavors, bringing Vietnamese and friends around the world a culinary manifesto of the country.